Traveling to Vietnam is an easy choice, it is difficult to put the script together! Squeezed between the main destinations in Southeast Asia and the China Sea, Vietnam has mountains, beaches, deserts, as well as museums, cultural and gastronomic options, and much more. It takes planning to choose the right places to visit and not miss anything from this incredible country!
It is recommended to take advantage of cheap tickets to Thailand, and from there to Vietnam. Flights from Bangkok to the main Vietnamese metropolises (Hanoi and Ho Chi Minh) last around 1h30 and tend to be very reasonably priced, even without being bought in advance.
Look at the map: Vietnam is a long and narrow country – vaguely reminiscent of Chile. It is a country with easy horizontal displacement, but with long distances to be covered from one end to the other. It is precisely in this sense that the ideal route through Vietnam should be put together: from North to South or from South to North. There are many interesting places to visit in Vietnam but Halong Bay is perhaps the most amazing one.
Are you planning to travel to Vietnam and want to take a cruise in Halong Bay? But you do not know how to choose a good cruise, which meets your expectations and falls within your budget?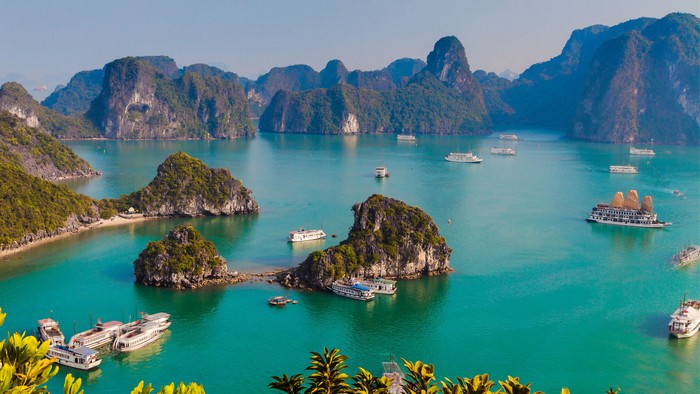 A cruise on Halong Bay is a "must", to do absolutely during your trip to Vietnam. Today, you have a lot of choices. Here is the list of 10 best luxury cruises in Halong. According to UNESCO "Besides Halong Bay, there is no equivalent site on the World Heritage list …".
Halong Bay, Bai Tu Long Bay, Lan Ha Bay
In the Gulf of Tonkin, there is a large region with relatively similar landscapes: thousands of karst rocks rise out of the turquoise sea in an impressive manner.
This region includes several bays, the best known of which are:
Halong Bay
Bai Tu Long bay and
Lan Ha Bay.
UNESCO recognized the nucleus of this region, where the density of the islands is the most important as world natural heritage. It is located between Đầu Gỗ Island (in Halong Bay), Cống Tây Island (in Bai Tu Long Bay) and Hồ Ba Hầm Lakes (in Lan Ha Bay). In other words, the UNESCO heritage site includes not only Halong Bay, but also part of Bai Tu Long Bay and part of Lan Ha Bay.
Each year, Halong Bay welcomes around 11 million tourists. Therefore, for travelers seeking a cruise away from mass tourism, the bays of Bai Tu Long and Lan Ha seem to be a better choice. For safety reasons, all boats must sail according to routes set by local authorities. The routes of the boats which sail in the same bay are then more or less similar.
Are Bai Tu Long bay and Lan Ha bay as magnificent as Halong bay? It is very difficult to distinguish these three bays because the landscapes are similar. But in Lan Ha Bay, you can find either wooden junks with modest comfort, or 5-star boats.